Courses and Workshops for Floristry, Flower Arranging, Professional and Traditional Crafts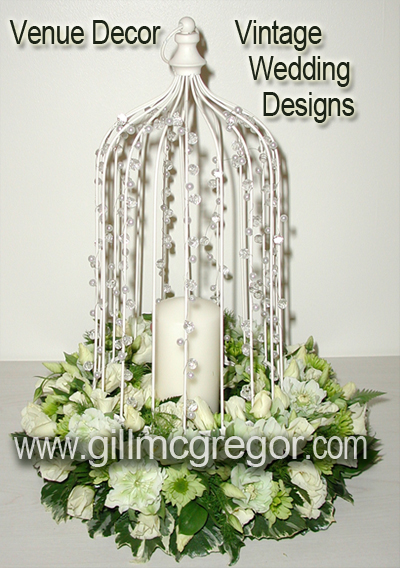 Course description: Floristry Courses - One Day Specialist Wedding Course - Vintage Wedding Venue décor.
Wishing to learn how to make a vintage style top table design with a hint of nostalgia and pretty, vintage table designs to complement the vintage bridal flowers for the wedding reception venue, then this course is correct for you.
The top table arrangement is the floral focal point at the reception which is why it is so important to create a stunning themed display to add that air of distinction. Beautiful table décor also add to the beauty and celebration at a wedding.
The course will cover: the techniques required to construct a vintage style top table arrangement and guest table décor, Conditioning, packaging and storing methods, what to consider when designing table décor, costing and delivery considerations.
This fun, hands on course will teach you how to create the romance of vintage for that special wedding day.
You may also be interested in our Vintage Wedding Bridal Designs Course
Venue Decor Courses in this series include:
Specialist Wedding Venue Decor with Roses (Click to visit page)
Vintage Wedding Venue Decor (Click to visit page)
FOR 2 PEOPLE WISHING TO GO INTO BUSINESS TOGETHER
Intensive 3 Day Commercial Floristry, Venue Décor, career course (Click to visit page)
Intensive 3 Day Commercial Floristry, Funeral Flowers, career course (Click to visit page)
You may also wish to look at our ( BRIDAL DESIGN COURSES )
Whether you wish to embark on a new career in floristry, either as business owner or as an employee, maybe to make designs for a one off event, or just want to 'test' your ability to learn floristry, Gill provides a number of different floristry options that include 1 day, 2 day and 3 day courses. You can also choose 'One-to-One' or ' You-&-Colleague' (or friend) - which helps to reduce your individual costs.

There are many types of course from wedding to funeral, venue decorating to corsages and buttonholes. Contact Gill to discuss what you wish to learn and with some dates that are suitable to you, in discussion arrive at mutually agreeable dates. Gill can then talk you through your different options including the cost of tuition and cost of materials that will be required.
Until we are able to once again get together safely, Gill is creating a new series of "How To .." flower arranging videos to entertain, to inspire, to educate and remind ourselves of the beauty of this art. These designs were created using available garden materials and everything we flower arrangers love to hoard, or using everyday objects in different, flower arranging, ways.
Help with school work; let´s Explore and make Craft projects at home. Whilst schools are closed Gill wanted to help our family members with their new huge task of teaching and entertaining their children at home. Then friends were interested and as the list grew, we thought to make these ideas available for everyone to use.
The following information was written before the outbreak of Covid-19.

The way we were - and will be again > > > >
Refreshing changes to the way you can learn.

A typical week for Gill includes floral art demonstrations (often booked 2 to 3 years in advance) and flower arranging workshops around the country. Gill also provides existing students with 'One-to-One' lessons where they study either flower arranging or floristry.

For new students and workshops Gill maintains a flexibility in her busy schedule so that she can take on new teaching and demonstrating commitments. As a new student all you have to do is contact Gill to discuss what you wish to learn and with some dates that are suitable to you and in discussion arrive mutually agreeable dates. Gill can also walk you through the option on cost of tuition and materials that would be required.
One-to-One

Gill offers the flexibility of 'One-to-One' lessons so that students can learn what they need to learn to achieve their individual goals without making the time commitment expected of them if they were otherwise to attend traditional college courses. Gill lessons are all about concentrated practical learning Student goals can, for example, be to achieve a higher practical grade in their floristry exams or to improve their creative skills when they design their next floral design.

Workshops

Workshops provided by Gill can be held at your local venue or run for your group of friends and often by businesses who wish to help their staff develop new skills; banqueting and hotel staff come to mind. There are just so many people that do not have the time to attend the traditional longer term college courses yet really love making floral designs and want to do something new, refreshingly different and one day workshops are a very good solution.

Timetable

You choose when; from available dates. The college's website depicts many different courses, that have been run previously, as a source of the variety of subjects that you can learn. Armed with an understanding that you can organise your next lesson as either a One-to-One, or as a Workshop, your next best step is to call Gill to discuss what you have done so far, what you would like to do next, where and when it could be taught. Gill in return can clarify any questions that you have, offer available suitable dates and advise the likely cost of materials and cost of tuition.
To contact Gill: Telephone 01707 873944 or email courses@gillmcgregor.com
ALTERNATIVE COURSES
For bespoke courses to suit your learning needs and requirements OR
For one to one tuition of any of the above listed wedding courses OR
For a change of teaching dates to suit your timetable
Please contact me via phone or email to discuss your course requirements/costs.
Please contact me via phone ( 01707873944 ) or email ( courses@gillmcgregor.com ) to discuss your course requirements/costs.
Courses run in idyllic local settings which include character hotels and approved facilities in the Hertfordshire - London ⁄ Middlesex, Cheshunt, Goffs Oak and Waltham Abbey; dependent on anticipated course delegate numbers. Refreshments are provided.
Copyright Gill McGregor © 2013 - 2021