Flower Arrangers´ Feedback "Thank u 4 going thru all the hassles of sending to to me in Australia! Much appreciated!", "A1 seller & item +++++++++++++++" "great fast delivery beautiful little book" "Fabulous book arrived quickly and perfectly packaged"

Choose from 9 - Refreshingy Different - Flower Arranging Books - click their front cover images to see more
-By using our book pages you are agreeing to our placing a Necessary cookie so that you can see our prices in your local currency
When you click 'Add to Cart' / 'View Cart' you are agreeing to PayPal placing their cookies so they can manage your purchase
Flower Arranger Books
Out Now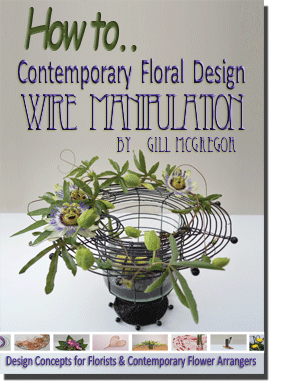 Contemporary Floral design - Wire Manipulation
When Gill first started creating floral designs – the use of wire was only considered to be suitable for support, anchorage and control. Wires were often hidden; external wires were taped and copper frames mossed.
Now with so many decorative wires available their uses have increased and are now often used to aid distinction, create visible supporting frameworks, and to enhance the look of a vase or a flower.

Many contemporary techniques require the use of wire and with so many attractive wires available Gill shows you how wire can now be used often to add visible enhancement; banding, binding, bundling, caging, clamping, clustering, cupping, framing, inter connecting, knotting, laminating, looping, mossing, pipping, plaiting, radiating, sculpturing, spiralling, stitching, structure construction, threading, veiling, weaving, winding, wrapping and of course wiring.
Courses run in idyllic local settings which include character hotels and approved facilities in the Hertfordshire - London ⁄ Middlesex, Cheshunt, Goffs Oak and Waltham Abbey; dependent on anticipated course delegate numbers. Refreshments are provided.
Copyright Gill McGregor © 2013 - 2021